Education
Marietta College – 1979-1981Temple University Undergrad – 1986-1989Temple University School of Dentistry – 1990-1994
Hobbies & Personal Interests
Running, golfing, biking, and vegetable gardening on my deck. I've done the Broad Street Run every year since 1995, and I consider myself a novice bike rider. However, I did complete a 50 mile ride one summer. I just love the outdoors!
Bio
I have three kids ranging from the age of 17 to 21! I grew up in the Plymouth Meeting area and graduated from Plymouth Whitemarsh High school in 1979. I just couldn't stay away from the area.
What I Love Most About My Job
I love being on the frontlines of the dental decay and helping patients! And when I can turn a phobic one into a regular patient.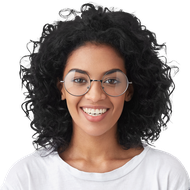 Professional Dental Care Serving
Sparkling Smiles
Our dentists are dedicated to providing the high quality and most comprehensive care in all of dental treatment. They can leave you with a brighter, straighter smile!
Learn More